Archive for October, 2007
You just keep on trying till you run out of cake.
As noted, I didn't ride my century.  I did, however, ride the short version, Irvine to Mission Bay (Sea World basically) this past weekend.  It was 58 miles on Saturday and another 42 on Sunday.  The ride felt great, I could've done a little bit more each day, but I definitely made the right decision not doing the full 100 on Saturday, I slacked too much in my later training.  Still, I feel like I accomplished enough of what I set out to do, and I don't even feel bad today.  I feel like I could do another 50 today if I had to.  And although it wasn't a race, I think I finished ahead of most of the pack both days, though it's hard to tell on day one since all the really strong riders were probably doing the century.
So I guess I need to update the blog title too.  But that's enough for now.  I do think I'll do this or other rides again, I had a lot of fun, and I feel great.
Remember how in school or maybe at a museum you saw that demo of dunking things like flowers and rubber balls in super-cooled liquid nitrogen, then dropping them and watching them shatter? That's my girlfriend's idea of a hot shower.
Here she is taking a bath.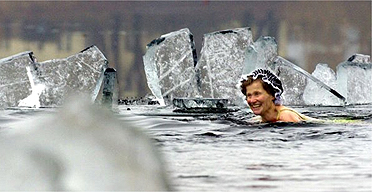 See the smile on her face?  Just right!