Archive for December, 2009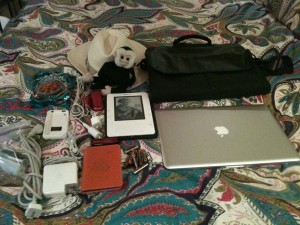 I'm out of here, on a ship for almost the next three weeks.  I might be posting occasional updates over on lemurofshame.com, I brought the little bugger (see picture) with me.  It all depends how much shame I can find for him to get into.  And how much internet I can get.
Gadgets in the picture that I couldn't leave home without: Kindle, iPhone battery pack, laptop, book light for use with Kindle, spare batteries for same, chargers (and the picture was taken with an iPhone of course!)  I was almost going to leave the laptop at home (or my mom's house, where I am tonight for my flight from San Diego), but it's coming after all just in case I get inspired to post things on the lemur's blog.
Not pictured: Lnor's SPARE gadget bag in my carry on because she ran out of room in her main gadget bag.  (I'm only being slightly unfair by counting cameras as gadgets.)