Campsite just before Keiffer Oak to Audie Murphy Monument. 14 miles.
After yesterday's hard day, this morning started out pretty awful too. The 800 foot climb was not unexpected, what was was that the several mile flat stretch after it turned out to be along a very rocky ridgeline. I was having such a hard time of it that by the time we got to Niday shelter, only 9 miles in, I decided I was done with the day. The rest of the gang were none too happy either, but decided to keep going. There's a restaurant that's just barely reachable tomorrow before they close at 6, but not if we stopped at that shelter, and they're closed on Monday.
So I sat there at the shelter moping. For half an hour. Then I got my shit together and packed up and hiked on. I caught up to the gang at the Audie Murphy monument, 5 miles farther on, where they had set up camp.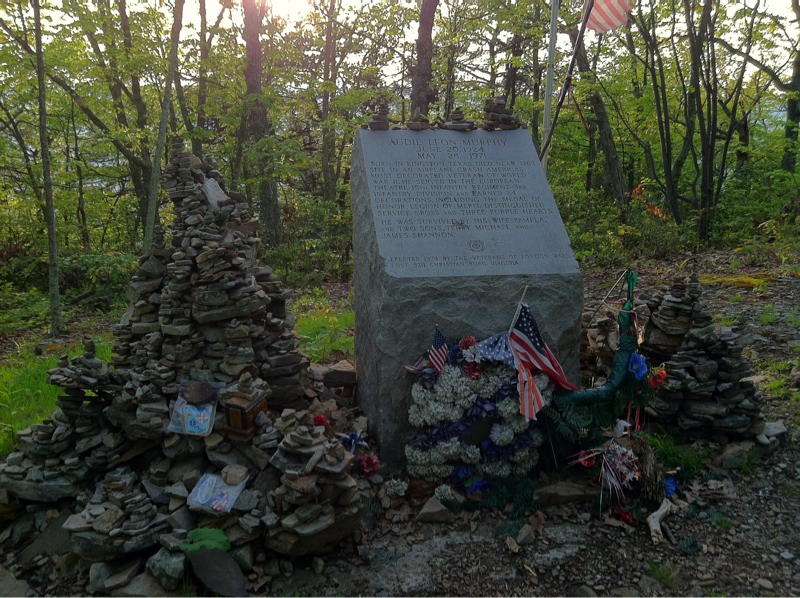 Audie Murphy – the most decorated soldier of WW2 – died in a plane crash near here in 1971.
I still think that restaurant is causing more stress than it's worth though. Even reaching it in time from here will require a shuttle from the grocery 6 miles before it. I'm planning on just hitting the grocery myself, I don't want to get up early or push extra hard just for that restaurant. The grocery is enough, it should be like the last one, with a little deli to get a sandwich at, and an extra day of food for the rest of the way to Daleville on Tuesday. Plus it's open late and 7 days a week, no stressing about timing it right. Looks like Little Debbie fruit pies for dinner on Monday!
Location:Bending Oak Dr,,United States
3 Comments to Day 69: Moping