Lambert's Meadow to Daleville, VA. 8.8 miles.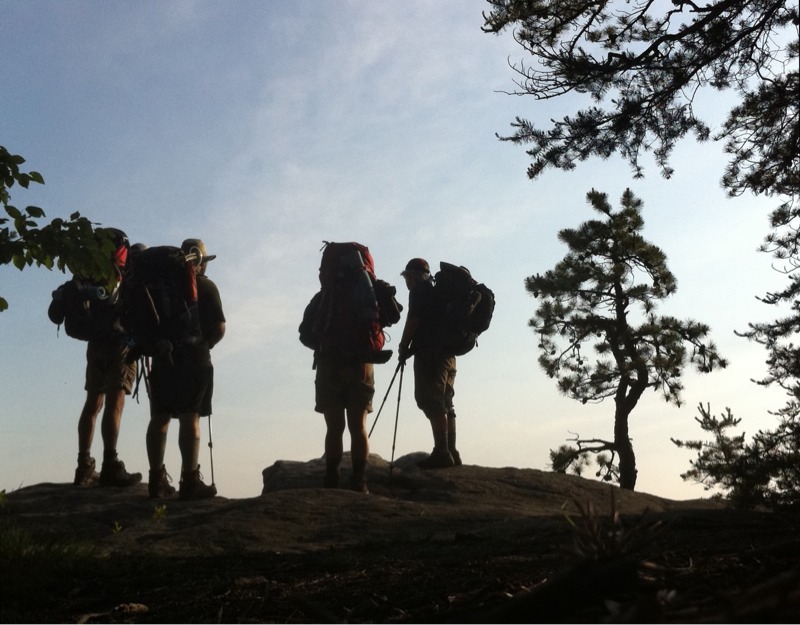 On the way into Daleville. Country Mouse used a timed camera app to get this shot of the four of us at one of the views along the trail.
It was a pretty easy 8.8 miles, we got in at lunch time, just as it was starting to rain. It never rained much though, just drizzled a few times. Once upon a time, 8.8 miles was a full day, now we can do it by noon if the terrain cooperates.
I'm feeling better for having had a shower, laundry, a couple of restaurant meals (Three Little Pigs BBQ in Daleville is GREAT. And it's not just the hungry hiker in me saying so this time, go there!) and having slept in a bed (Writing this on day 73 in the morning). Still, that last leg was really hard, and my will to hike is still low now that I've reached a nice hiker friendly spot to stay. I'm still thinking I'm taking the next two days off until Lnorigb gets here. She says I should just go there instead if I'm going to do that. I think my will to hike for 2 days and my will to fly for 2 days round trip are one and the same. I will still be home for a week once I reach Harper's Ferry, which will be less than a month from now if everything is going well.
Hiking to catch up with S, CM and FW after all this time off isn't really appealing, if it would even be possible, so I've just decided I'm going to skip ahead and meet them on Monday. If it bothers me later in life that I skipped those miles, I'll come back and do a week's hike to make it up (and hit the Three Little Pigs BBQ again). Right now it doesn't bother me in the slightest. I'm hiking my own hike here.
Location:Roanoke Rd,Daleville,United States
1 Comment to Day 72: Daleville