Archive for May, 2011
64: Wood's Hole hostel to Pearisburg, VA. 10 miles.
65: Zero in Pearisburg.
After a pretty gentle 7.5 miles, we started the steep descent into Pearisburg. There were some great views from the top.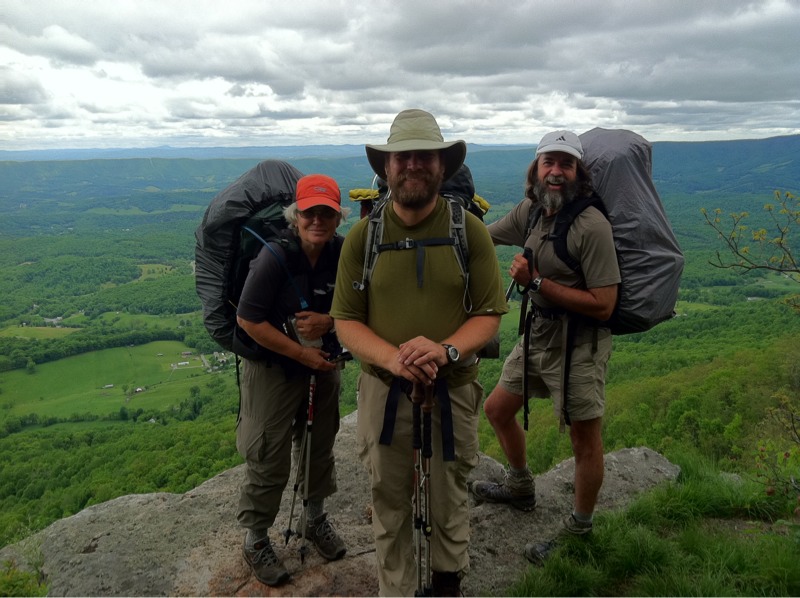 Looking down on Pearisburg's valley.
A nice couple gave us a ride up the hill to the motel here. We didn't even ask, they just offered as they were getting in their car by the thrift shop near the trail. Southern hospitality wins again. Good thing for us too, we knew the motel (and restaurants, supermarket, etc) were a mile off the trail, no big deal, but the hill was a surprise. The town maps in the guide don't show elevations, just distances!
Tomorrow will be a not quite as steep but still big ascent out (after the downhill road walk back to the trail). We're only planning 8 miles. There wasn't a lot of choice if we want to camp near water. The next water after 8 miles is 17 miles out, and last time we planned a day like that it did not work out well. So 8 miles it is.
Today I picked up my warm weather sleeping bag from the PO here in Pearisburg. I'll send my cold weather bag home in the morning. Probably just in time for another cold front! But I'll still have my puffy jacket just in case. I'll be fine, but there might be a few cold nights. I think the two pound weight savings is worth it. Ask me again in a week if I still think so!
My pack feels lighter than it ever has even though I've got what seems like a LOT of food for this next leg. I've been doing 5-6 day legs all along, and so have the rest of my gang, so this leg isn't all that different for us, but it is for some people. There really isn't any good resupply option for the next 6 days. If you're used to hitting all the minor resupply points in between the big ones, this would be a tough leg. I think from my pre-trip research that this is the second longest stretch on the whole trail without "civilization", the longest being the "100-mile wilderness" right at the end in Maine. Even here though, there are still road crossings every day, we're never really all that far from help should an emergency arise, we're just far from convenient services.
Location:N Main St,Pearisburg,United States