Before leaving Zion, I visited the Mean Bean coffee house for coffee and a waffle, both of which were excellent. So far I'm keeping my don't eat at the same place twice guideline. From Zion, I drove to Page, Arizona. The notable stop along the way was the Grand Canyon's north rim. It's an amazing view, of course, and all the more so when you find out that reaching the other side, which is clearly visible, by car, is a 200 mile drive.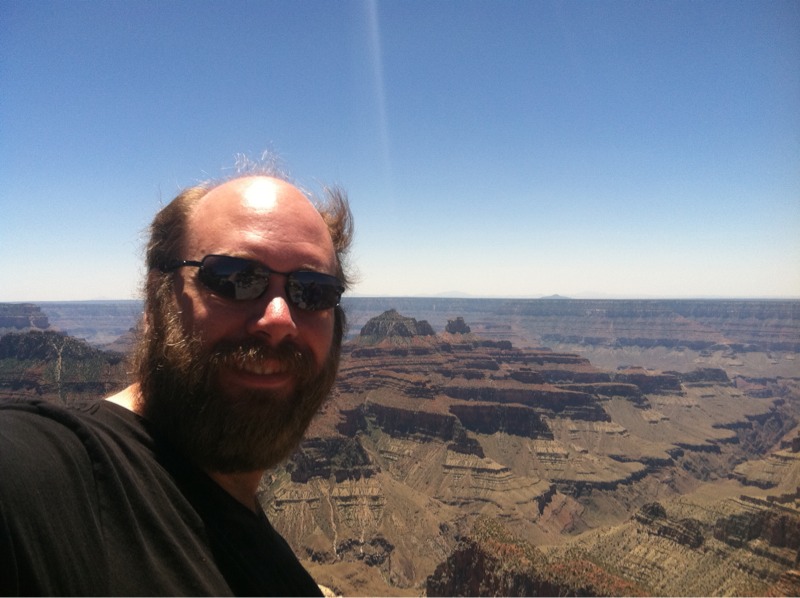 I opted not to do the 200 miles, and instead headed to Page, which sits on Lake Powell. I tried to go out and see Horseshoe Bend on my way out this morning, but the road was temporarily closed for something, the workman said 15 minutes, but when I came back 15 minutes later after getting gas it was still closed and traffic was backing up. So I gave up on that idea. That was disappointing. There was a picture of it on the wall of my hotel room which I thought was a picture of the canyon taken with a fisheye lens. It wasn't until I was looking at stuff to see online later that I realized it actually looks that way. Oh well, some other trip!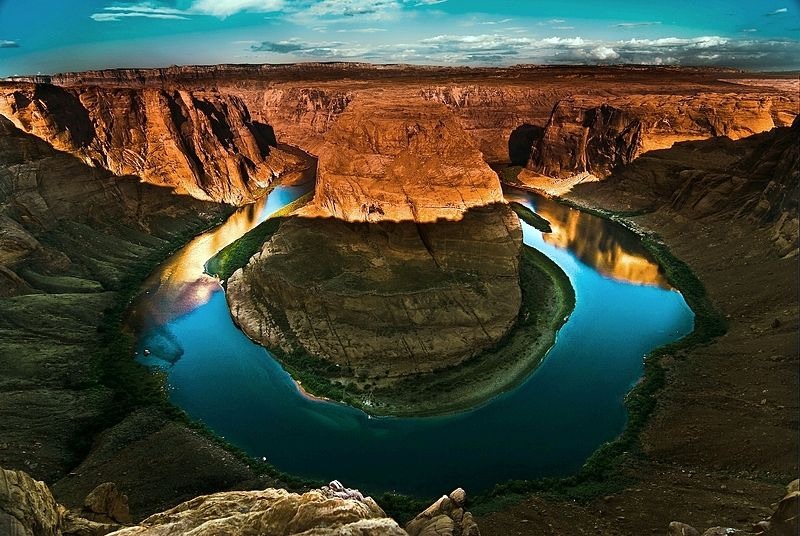 The picture I would have taken if I'd had more patience.
Today's main attraction was Four Corners, where Utah, Colorado, Nevada and Arizona meet. It's the only place in the U.S. where four states meet. The site itself is operated by the Navajo Nation, and surrounded by jewelry sellers and other touristy souvenir stuff. I walked to Colorado and bought a magnet for our door at home. You should all bug @lnorigb to post some pictures of our magnet door before all the magnets pull the space station down on top of us. It's going to happen someday, especially after all the magnets I'm adding from this trip. Walking around the monument to Colorado "the long way", I walked through as many states as I did on my AT hike. Today was slightly easier.
Also today was the Best Buy in Farmington where I got a replacement hard drive for my ailing laptop. It's being restored from my external drive right now. Bombich Software, makers of the excellent and free Carbon Copy Cloner are getting a donation out of this, it definitely "saved my bacon" as they put it.
Farmington has this interesting builiding in its old downtown section.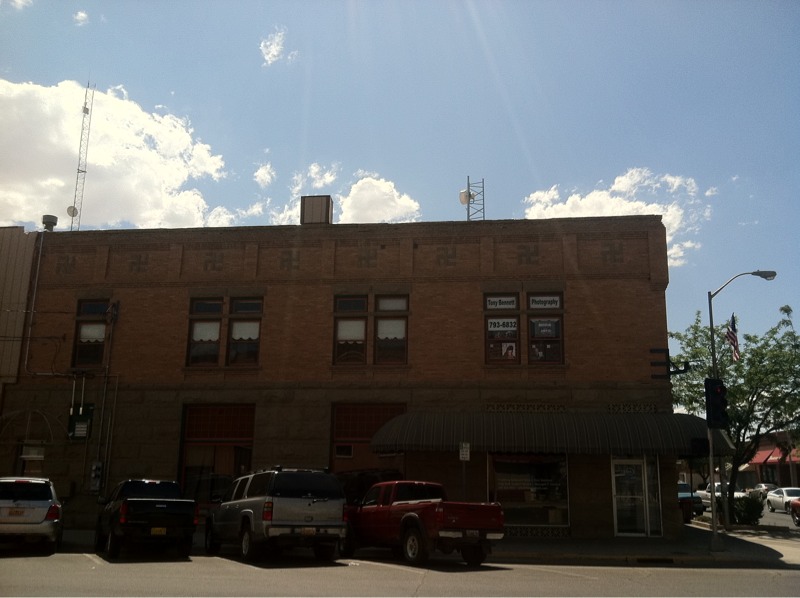 It might be hard to see it in the picture even if you click for the full sized version, but there are swastikas all around the top of it. It's not subtle at all when you're standing across the street from it. It's clearly an old building, and I know swastikas were sometimes used that way prior to WW2, but it's really surprising it's been left that way all these years! If you can read the sign, you'll see that Tony Bennett took up photography and set up shop in the building.
I had planned on going over the mountains and staying in Los Alamos tonight, but when I got to the road I would've taken, there were signs indicating it was closed due to fires 30 miles ahead. I had seen the smoke before that, but hadn't put it together that that was where Los Alamos was, I wasn't really headed towards it at that point. Checking the Internet, it was immediately obvious I wasn't going to Los Alamos. The whole town of 12,000 has been evacuated. So I wound up taking the interstate (drat!) to Santa Fe instead, where I found a hotel room on my second call only because I was willing to take the room with a broken TV. But I feel guilty about being here when there are probably evacuees who could've used it. There are a lot of hotels here, but I doubt they're enough to absorb the entire town of Los Alamos! If I'd thought about it a little more before heading out here, I would've either gone to Albuquerque or headed out past Santa Fe to Taos or somewhere. I just hope everyone from Los Alamos stays ok.
Location:Fox Rd,Santa Fe,United States
3 Comments to Road Trip Day 4 & 5: Grand Canyon, Page, Santa Fe
Leave a Reply