I uploaded the slides from my GDC talk, "Network Serialization and Routing in World of Warcraft".  You can download them in several formats:
Keynote What I used to build and present them
PowerPoint Auto-exported from Keynote, haven't checked it AT ALL.  Likely has a few broken things
PDF – maybe your best bet to just read them
Also, Simon Koo (@sm9kr) seems to have written a summary of the talk in Korean along with pictures of all or most of the slides.  I'm taking his word for it that the text is actually about my talk!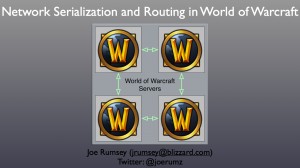 2 Comments to GDC 2013 Slides
Leave a Reply