wow
I uploaded the slides from my GDC talk, "Network Serialization and Routing in World of Warcraft".  You can download them in several formats:
Keynote What I used to build and present them
PowerPoint Auto-exported from Keynote, haven't checked it AT ALL.  Likely has a few broken things
PDF – maybe your best bet to just read them
Also, Simon Koo (@sm9kr) seems to have written a summary of the talk in Korean along with pictures of all or most of the slides.  I'm taking his word for it that the text is actually about my talk!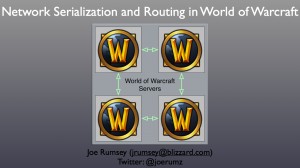 Someone said "ship it!" and I misunderstood, so I'm on a ship until after Christmas.  Since I know millions of people's lives are not complete without checking this blog for updates several times a day, here is something to tide you over.
Also